Air Conditioning Service - Heat and AC Repair Edmond
A/C Responder's Pre-Season Edmond OK air conditioning service lowers utility costs, extends the life of Edmond heat and air conditioning equipment, and prevents downed air conditioning systems by mitigating problems before a Edmond AC Repair and Air Conditioning Edmond malfunction. Dirty air conditioners cannot breathe properly and cause excessive wear on the entire heat and air conditioning system potentially shortening the expected life span of the heating and air conditioning unit.
Save time and money by calling and scheduling your pre-season Edmond OK air conditioning service today with A/C Responders. You can trust our Edmond HVAC Repair company.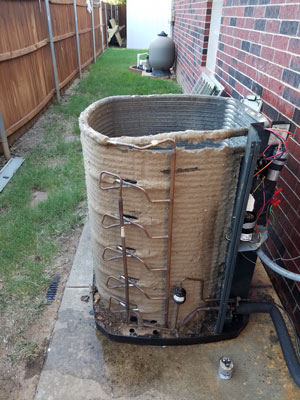 This heat and air unit was said to have been serviced by one of the large companies, but it's obvious that it was not. This poor condenser was starved for air and blew a capacitor.
Need a new air conditioning unit? Visit our air conditioning installation page.
Visit our air conditioning repair page or read more about our air conditioning maintenance plan.